Stanley Fatmax Power Station (1000 Peak Amp)
by Stanley
Stanley Fatmax 1000 Peak Amp Power Station
500 Amp/100 peak amp jump-starter
Includes heavy-duty 24 in. powder-coated jumper clamps
120 PSI air-compressor with Autostop™ feature
Four USB charging ports to recharge electronic devices whenever you need it
Equipped with an ultra-bright LED worklight
Jump a dead battery, fill up your tires or power up your devices
Description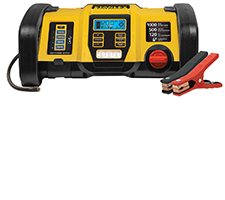 One-Stop Service ShopThe Stanley Professional Power Station combines four USB ports with a jump-starter and a120-PSI air-compressor. It even has a powerful 3-LED area light so you can see in the pitch dark. The station has a low-profile and a more stable base so it won't roll around in your trunk like other jumpers.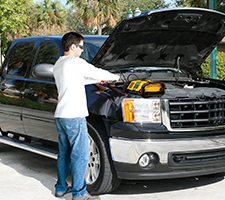 Jumpstart Your Engine If you are stranded on the road with a dead car battery, you don't need another vehicle—just jump-start your battery instantly with this portable power station. With 500 amps, 1,000 peak amps, heavy-duty cables and clamps, you can jumpstart your battery wherever you are. This jump-starter even has the ability to check for potential alternator issues.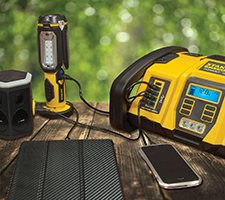 Power Up Anything, Anywhere, AnytimeWhen you are on the move, the Stanley Professional Power Station has four USB ports, so you can bring the power with you. Whether you are headed to the beach, campsite or tailgate party, you can power up and recharge your personal electronics for up to 10 hours. Charge laptops, tablets, cell phones, MP3 players, radios and more.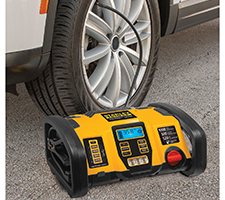 Stay Pumped UpThere's no convenient place to have a low-pressure tire. But the Stanley 120 PSI compressor fills vehicle tires, bicycle tires and sports equipment with ease. So whether you're off-roading or on an epic road trip, you'll always be able to pump up the air for an enjoyable, smooth ride.
Specifications
500 amps/1000 peak amps jump-starter with heavy-duty cables and clamps
120 PSI air compressor with Autostop™ feature
Four USB charging ports to power and recharge electronic devices (6.2A combined)
Alternator check capability indicates potential alternator issues
Includes ultra bright LED emergency worklight (three bulbs)
Heavy-duty, powder-coated jump starter clamps with 24" reach
To re-charge, just plug in an extension cord and connect to wall outlet (extension cord not included)